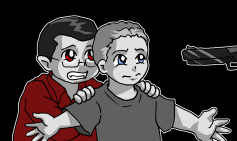 The Eagle of Hermes
Chapter 1 | Chapter 2 | Chapter 3 | Chapter 4 | Chapter 5 | Chapter 6 | Chapter 7 | In Care Of Thee | The Rally to Restore Humanity
A complete repost of the previously published spinoff comic.
In which we learn the full story of what happened in New York in '99, and how Iscariot reacts when they find out that former operative Stephen Colbert has been secretly a vampire ever since.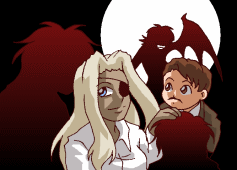 Once upon a time in the future. Our heroes' first war may have been won, but cool stuff continues to happen to them, never fear.
With (almost) nothing left to spoil, the artist and the characters go on a blitz (get it? get it?) of answering reader questions.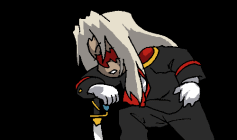 In which Integra enters the final boss battle, charges at the Major, and gets shot in the eye. It's almost a fatal blow, but after a heart-to-heart talk with her dead mother she's back on her feet, at least for about ten minutes.
It's long enough.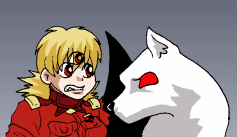 Seras catches us up on what's going on in London, before rushing off to meet the big bad wolf.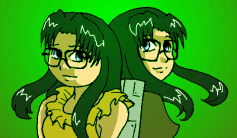 A flash forward...or flash back, depending on what point in whose timing you're looking at...showing yet another loop on the timeline of Yomiko Readman.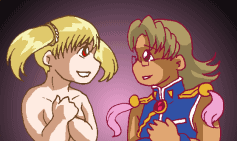 The fangirls' last hurrah brings us full circle, as Alucard's mystery message from the very first storyline is revealed.
Also, Integra gets a new sword.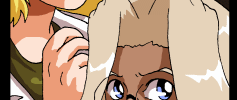 The third of the battles: the Captain, Reseda, and Integra's mysterious impersonator, with Schrödinger hovering in the background.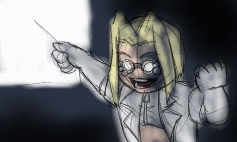 An interlude from Japan, where Doc is showing off his demon-summoning prowess to the world's foremost convention of mad scientists.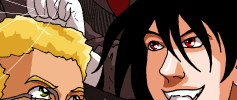 The second of the battles: Anderson, Alucard, Walter, and Jeeves, with Maggie and Marian not far behind.

A week plust slightly more of strips, motivational posters, and remixes.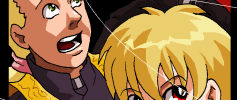 The first of three simultaneous battles: Integra, Seras, Maxwell, Heinkel, and plenty of Nazis.
Remember that ghost ship Alucard got stranded on? It's finally back in the plot, with a young Maggie Mui safely aboard. And Integra is delighted to see Alucard, albeit not so thrilled about the beard.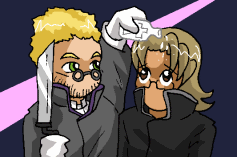 Yumie is MIA; Heinkel and Alex are having crises of faith; and Timothy may or may not be suffering dangerous side effects from that time he got possessed. But Iscariot's best and brightest are on their way to London, to meet another blonde vampire and a remarkable facscimile of Integra.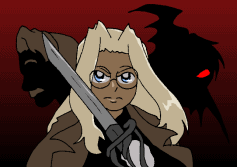 Things go boom, and lots of people die. Integra is not one of them. But she might be soon, and it's up to newly-elected guardian angel Shelby Penwood to get a certain perky blonde vampire to her side in time to save her.

This storyline was written years ago, never to be published ... until now. The art shows its age, but the jokes are still funny.

The Internet Integra Hunt Week II
The websites for organizations named Integra, they just keep coming in!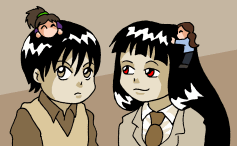 Fangirls of the Greatest Generation
Crossover with Jeeves & Wooster.
In the midst of World War II, Walter is a prodigy at destroying Nazi ghouls. Which is no help at all when faced with Alucard's banter, the yearning for parental figures who love him, and, oh yes, squealing fangirls.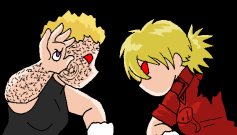 Zorin's evil-eyeball illusions face off against the tiny force gathered at the Hellsing mansion, where Seras' own powers are growing even as her group of allies dwindles.

The Internet Integra Hunt Week
Filler week. Because there are lots of companies named after Integra, and many of them have websites.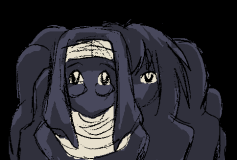 In defiance of Iscariot's rules about classified information, Heinkel reveals some truths about Yumiko's shattered psyche.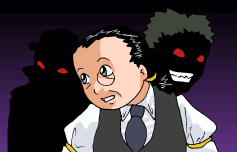 Sir Penwood plays defense on one front; Seras, Pip, and the Wild Geese on another; and Integra and Walter get to do a high-speed chase through a city where there are no safe places anymore.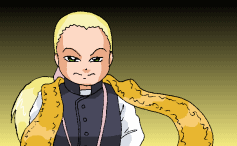 It's Enrico's turn for a significant dream, as three spirits — the Ghosts of Iscariot Past, Present, and Future — visit him in the night. And it's up to Timothy to figure out just how much of his story is true.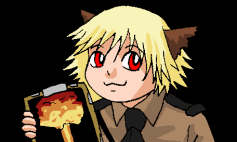 One Two Three Four, I Declare A World War
The pieces begin to move into place.

This round of guest strips includes some of the birthday artwork Erin has received over the years.

Filler week, featuring Alucard in thirty female outfits.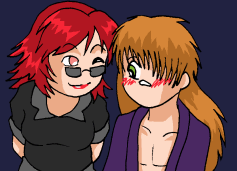 Pip gets a last-minute dream conversation with the spirit of his Pancor Jackhammer gas-operated shotgun...who happens to be a manifestation of the spirit of War.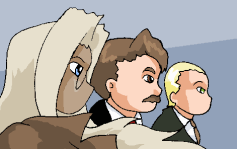 In a stirring development of Plot, the H.M.S. Eagle gets hijacked. Can Hellsing work with the Royal Navy, and the British Library Special Ops without knowing if either can be trusted?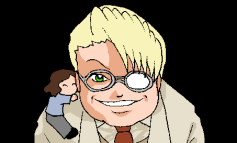 A misaimed experiment brings the fangirls to Millennium. Lucky for them, the Major understands the mind of a fan.

A quick round of guest strips, including a guest vid.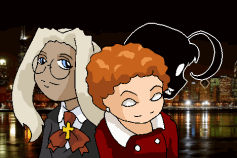 Integra and company finally meet billionaire arms mogul Ann Warbucks and start shopping for new guns. They'd better pick fast, because they're going to need to be heavily armed very soon.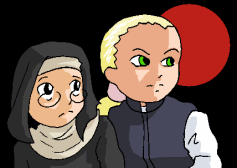 After some, er, "enhanced interrogation," Iscariot knows more than anyone else about the players in the war on the horizon. The question now is, which side will they choose?
While on the plane ride towards Chicago, Seras tells Pip about the nightmares from her past, and Alucard gives her some dream-based coaching on how to move towards the future.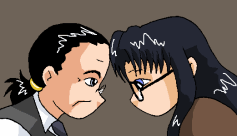 Crossover with R.O.D.
If I had to choose between betraying my country and betraying my friend, I hope I should have the guts to betray my country.
—E. M. Forster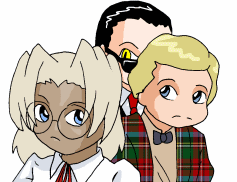 Crossover with R.O.D and Good Omens.
The first time the Hellsing Organization teamed up with British Library Special Ops, all that firepower was turned on a seemingly innocuous bookstore owner with a fondness for tartan.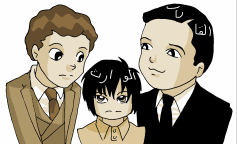 Isn't That A Little Bit Dangerous, Jeeves?
Crossover with Jeeves & Wooster.
An old manuscript takes our story back to the late 1930s. There's a storm approaching England, a beautiful girlish vampire stalking the night, and a young orphan in need of instruction on . . . butlering. Only butlering. No secret agent training going on here, nosirree.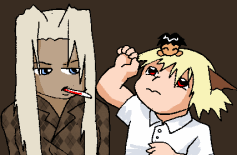 Under normal circumstances, the Hellsing organization knows how to handle fangirl invasions. With Integra laid low by the flu and a certain inquisitive catboy getting in the way, this round is anything but normal.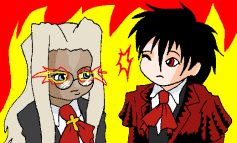 Intent on discovering the full range of abilities granted by the Flowers of Perun, Integra decides to run a few tests. Naturally, Alucard gets to be the guinea pig.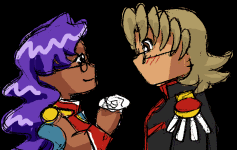 Crossover with Maria-sama ga Miteru, Witch Hunter Robin, and Revolutionary Girl Utena.
No sooner had this story begun than the dōjinshi-ka was struck by a sequence of dire disasters. But it will be finished!

A round of sketches followed by guest strips, necessitated by the artist's hard drive deciding it didn't feel like working any more.

'Twas the night before Christmas, and all through the compound not a creature was stirring, not even a Hellhound.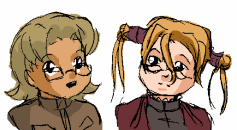 But What If She Weighs Less Than A Duck?
Crossover with Maria-sama ga Miteru, Witch Hunter Robin, and Revolutionary Girl Utena.
Heinkel and Yumiko head out on a mission to a Japanese Catholic girls' school, where they and tagalong intern Timothy clash with the local secret organization of hunters as they both try to track down a witch.

Three weeks of guest strips, including remixes from the Create a Comic Project.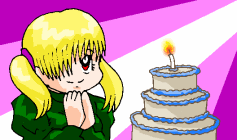 Integra orders Seras to drink her blood; Walter catches Pip watching; two baobhan sith make a trip to London; a stray catboy turns up in a box; and all of this converges on Integra's birthday.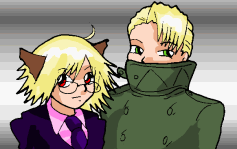 An experiment of Doc's, meant to advance some Plot, goes awry and promptly malfuctions, leaving the members of the Letzte Battalion stuck in the wrong bodies. As one might expect, chaos ensues.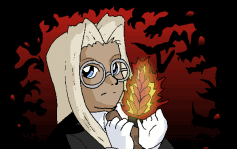 Integra's on a secret mission that involves, among other things, a series of diplomatic favors; a piece of obscure Slavic mythology; and a cake. The servants are puzzled, the rumors are flying, and Alucard is worried. You see, she's going alone.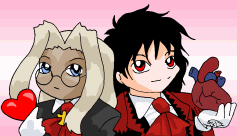 Ingmar Bergman called a kiss "a lovely trick designed by nature to stop speech when words become superfluous." It's a trick, all right; it just has far more uses than he probably had in mind.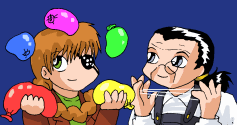 Pip has a brilliant idea - or rather, a lot of them. Unimpressed with the variety of the Hellsing organization's weapons, he's gone and come up with his own. He has, however, underestimated the creativity that Hellsing already has.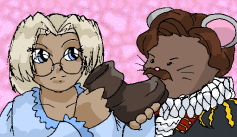 It's Christmas Eve, and fourteen-year-old Integra's under a lot of stress. It doesn't help matters when Alucard decides to start messing around in her Nutcracker-inspired dreams. But the story (flashback dream sequence crossover parody ballet pastiche) proves stronger than Alucard.

Okay, so it's only three weeks. It's still enough time for some serious variety.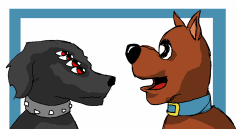 A handful of kids in a psychedelic van show up at the door of the Hellsing mansion looking for a tour. Security is not impressed with the idea of a tour group. The talking dog, however, doesn't even get a second glance.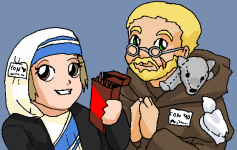 Convention of Fanatic Generation
Cosplay! Panels! Fanworks! Competitions! When a group of enthusiasts get together, they can make all kinds of cool things happen. In this case, the convention is Catholicon, the enthusiasts are religious fanatics, and the game of the day is Pray Pray Revolution.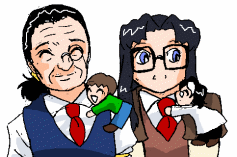 Fangirls Are All The Same [Epilogue]
The gang arrives back at home just in time to find Walter being assaulted by fangirls. The other Hellsing members have fangirls. The Iscariot agent has fangirls. Yomiko has fangirls. Of course, Nenene, being a brilliant author, has fangirls too; but they're quite a different story. Or are they?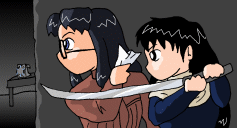 The Invisible Timeline [Denouement]
In which the temporal crisis is pre-empted, and the healing can begin. Even though the unraveling of the timeline was stopped before it happened, it hasn't escaped without a few knots. (For one thing, Seras' uniform is suddenly yellow!)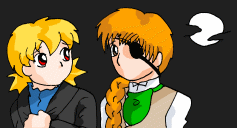 Not Quite Victoria's England [Climax]


Multifandom crossover. In colored pencil.

One more leap through time, and our heroes are in the far future - for a few minutes, anyway. Can they make it home? Can they repair the fractured timeline? Can they put up with the amazingly bratty alternate Integral?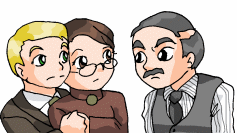 All's Well That Ends Wells [Rising Action]
Beginning of Victorian Romance Emma crossover.
The I-jin Wells is somewhere in Victorian London, and our little troop of heroes must track him down - before he kills Integral's grandfather and wipes Hellsing out of existence. The obvious target is Abraham van Helsing, but why are we running into so many characters from Victorian Romance Emma?
War of the Words [Exposition]
Preliminary epic battles aside, the agents from three covert organizations get together to face their foe: a preternaturally powerful clone of H. G. Wells. And it's only going to get weirder, trust me.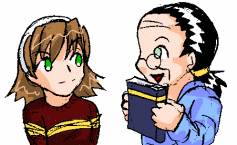 Shine or Die [Introduction]
Beginning of Read Or Die crossover.
Star author Nenene Sumiregawa came to England to sign some books. Yomiko Readman came to act as interpreter and guard her from any crazy fans. Nenene has fans in both Hellsing and Iscariot, but she's not worried: Yomiko's a secret agent too.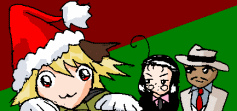 A Christmas story, Nazi style: The present Rip Van Winkle bought for her commander had vanished. With the help of Tubalcain Alhambra and Schrödinger, she sets off to buy a last-minute replacement.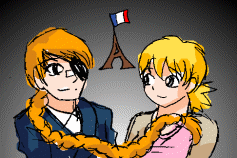 Crossover with Madeline.
In an effort to make up with Seras, Pip rents a suit, brushes his hair, and takes her on a date to the City of Light. Trouble is, he's also trying to supervise a vampire hunt - without her noticing.

Because the artist needed another break - and wanted to leave you in suspense.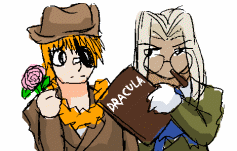 Pip Bernadotte was just, in his own way, flirting with Seras Victoria. Unfortunately, she doesn't see it that way. After a conversation with Sir Integral in which he's informed that he's been reported for sexual harassment, Pip decides to try a new tactic.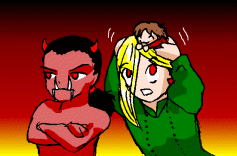 A bit of amateur necromancy, a mishap with a magic spell, a few crossed links between reality - and the fans of a bunch of deceased characters finally get the chance to latch on to their obsessions, even though it means going to Hell and back.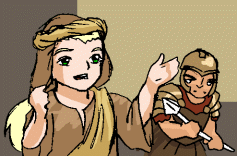 The staff of Section XIII pulls out Enrico's Christmas present - a biblical board game - and plays a round, re-enacting the founding and early spread of Christianity. Of course, they can't resist updating the gameplay with a little modern-day Christian competition.
To give the artist time to study for AP exams.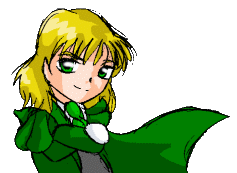 Integral, Pip, and the Wild Geese can't find the vampire they've been tailing for a week. Walter can't find another speck of dirt to clean up. Alucard can't find a good fight. Seras - well, Seras has found a stray cat, but that's not going to help anyone. Or is it?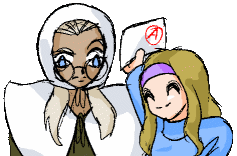 Your dōjinshi-ka loves the phrase "open-ended school project". It means she can work on schoolwork and get Shine done at the same time. This project's goal was to express characteristics of Puritanism. The members of Iscariot and Hellsing will be expressing some other things before it's done.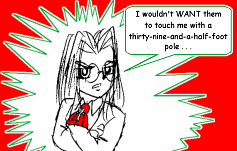 How The Grinch Canceled Christmas
Children's book spread format.
Our good Sir Integral, called also "The Grinch,"
Has gotten our other friends into a pinch.
She's sending out orders for canceling Christmas!
How will they react? Readers won't want to miss this!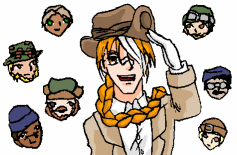 Since we plunged straight into the fangirls' return, we didn't have much time to explai exactly who this Pip guy is, or why he's here, or what's going on with him and Seras. So we're going to back up and explain just how the Wild Geese joined Hellsing. Of course, if you've seen the second tankōbon, some of it will look very familiar.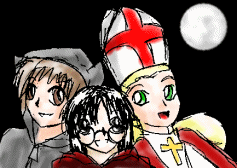 Double-height format.
When asked whether he ever celebrated Halloween, Enrico relates another childhood anecdote of dubious accuracy. But really, who cares if he gets the facts right when it's this cute?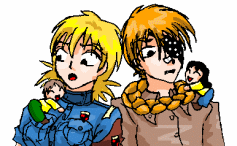 Beginning of permanently full-color strips.
They're baaaaaaaaaack...
Not only that, but this time there are dozens of them; they're latching on to more characters; and, best of all, they're all real.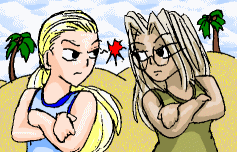 The Obligatory Desert Island Story [Down]
If you had to be stuck on a desert island with only one person, who would you pick? Integral and Enrico both know who they wouldn't pick: each other. So, of course, that's exactly where they end up together.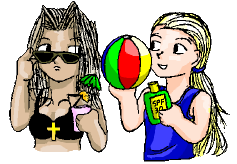 Vacation, All I Ever Wanted [Up]
Sun, sea, and serious relaxation: the essence of a Caribbean cruise. For Integral, the serious relaxation is aided by the fact that no vampire would want a week of sun and sea. Unfortunately, she didn't count on a certain human passenger.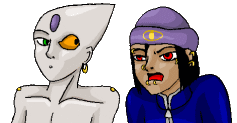 Whence came that title, you ask? Was this story particularly difficult to draw, or time-consuming to tone, or complicated to compose, or otherwise hellish to finish? Not at all. This storyline literally takes place in the land where all our favorite villains ended up.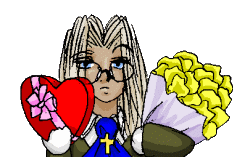 Valentine's Day (Week)
Double-height format.
The big day is on Saturday, but pretend it's Valentine's Day all this week; because someone sent Integral chocolate, and it's going to take that long to explain who (and why).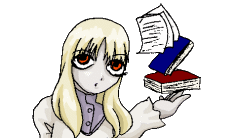 Later a Sunday feature.
Her spirit will wander the sky forever - except when it comes down to Shine to do reviews. Because Helena has had plenty of time to find good things to read, not to mention develop good taste.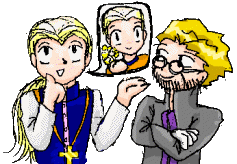 Enrico Maxwell starts relating a flashback to the first time he met Integral: when they were about six years old. The feuds were on a smaller scale, the weapons limited to sandbox toys, and the flowers dandelions rather than roses; but it turns out that nothing ever really changes.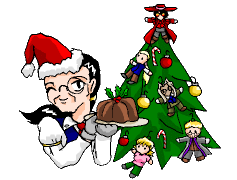 Early full-color storyline.
A very merry Hellsing celebration, beginning as soon as the vampires wake up in the early evening on Decembe 25. Featuring presents all around, eggnog, pudding, a cosy fire, carolers, and a generous heaping of Christmas spirit. Oh, and mistletoe.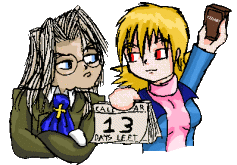 Manga page format.
In a moment of boldness, Seras challenges Integral to prove that she's not addicted to cigars - by going cold turkey for thirty days. Is Integral going through withdrawal, or just angrier than usual? Not sure. Can Alucard turn this into new and innovative ways to be irritating? You bet.
Because Shine had a schedule to keep and a hole to fill.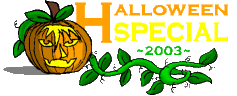 Big fancy full-color pictures of Hellsing characters in costume. Be awed by the splendor of it all - and the terror that is Aluchu.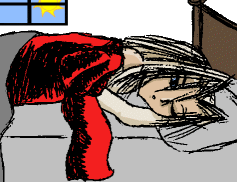 The Morning After [Act III: Resolution]
On a regular basis Integral doesn't drink. She doesn't drink socially because she doesn't socialize, and she doesn't drink to relieve stress because she has cigars for that. As such, she wakes up after this party with a massive headache, gaps in her memory - and Alucard's coat.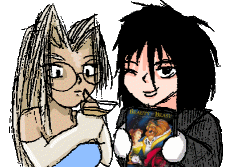 Beauty And The Beast [Act II: Confrontation]
You have seen Disney's adaption of the faerie tale, right? If not, do a little research; you'll need it. On the other hand, you won't need any knowledge about the movie to understand the scones, the dancing, the host's handsome yet sinister son, or the excess of champagne.
Shopping Spree [Act I: Setup]
When all-work-and-no-play Integral gets a party invitation and Walter convinces her to accept it, Seras informs her that she absolutely has to go shopping. Needless to say, Integral is less than enthusiastic about the idea.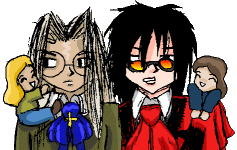 The Hellsing Organization faces its most frightening challenge yet. They're small, they're human-shaped, they latch on to characters and then rant obsessively about how cool those characters are. They can only be - fangirls! Now, how do we get them off?
§