Bad guys, we have bad guys!
The TV anime has two halves, with different relationships to the manga. The first half is a retelling of the first two tankōbon, but fleshed out and given more time to develop. The second half is the original conflict created to give the series a sense of climax and resolution, rather than introduce the Millennium Organization and then wait five years for Hirano to finish the story.
Both halves feature new antagonists whose connection to the Millennium Organization is vague at best. They're not officers; they're not enlisted; some aren't even related. Very few of them appear in the manga; we're glad that some of them didn't, but others would have been nice to see.
The First Half (Orders 01-06)
Random Vampire Model #1
This chick appears in the beginning of the first episode, to give us a demonstration of Alucard shooting stuff. At first she appears to be a generic prostitute, with her client's dialogue implying that he's a vampire; but no, it's her. (Note the Millennium eye, also seen on Jan's hat, on her necklace.)
An identical model (although in a red dress, not a black one) is staggering around in the beginning of Order 02, and attacks Kim. She gets taken out by a generic Hellsing sniper when Seras can't muster up the gumption to fire.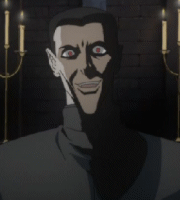 The Cheddar Priest
The priest whose suspicious activity introduces us to the Hellsing organization, in the manga and OVA as well as the TV anime. He lives in the town of Cheddar, never comes out in the sun, and turns all who challenge him - from police inspectors to a whole unit of officers - into ghouls.
Despite the body count, he's only competent when his opponents don't have blessed bullets: Alucard takes him out easily. Seras is the only one to survive her unit's mission to Cheddar, and his use of her as a hostage kicks off the plot. Cause of death: Alucard.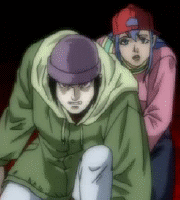 Leif and Jessica
Most teenagers think they're invincible. These two have reason to believe it. They get a rush from killing and a high from drinking blood, and get their kicks driving a motorcycle down both sides of the highway with some large guns, killing everyone they pass. They also appear in the manga and OVA.
Leif's a posturing, aggressive guy; Jessica's a wild girl who seems fun-loving until there's any actual pressure, at which point she reveals her true flaky nature. Both are doing what they do because they enjoy it, and because someone has told them they'll become much stronger if they meet a certain goal. They're stopped before they get there. Cause of death: Alucard.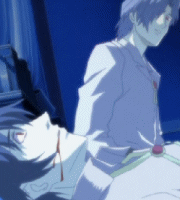 Enrico Stilvaletti and Mick
Enrico Stilvaletti is a transfer student at a boys' school whose native country is Italy, but who would be most at home in an Anne Rice book. He turns his boyfriend Mick into a vampire so that they can be "together forever"; Mick is taken out before he can get up.
Stilvaletti is brought down, but gets up again (after the autopsy) and goes on a rampage. Captain Gareth and Seras have to go bring him down. Why wasn't the body burned in the first place? Because Italy insisted on disposing of him itself - and sent representative Alexander Anderson to do the job. Cause of death: Alucard.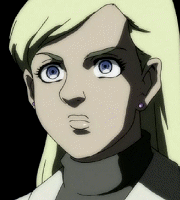 Kim
First appearing in Order 02 as a bystander in a vampire attack, Kim returns in Order 04. She's a TV reporter with a strong sense of journalistic duty and a not-so-strong sense of morals.
Kim decides to try to expose the Hellsing Organization's vampire-catching activities. Trouble is, she hooks up with producers of snuff films to do it. These are videos of people getting killed for the viewers' enjoyment; when vampires are used to do the killing, Kim hopes Hellsing will show up. They do. But Kim didn't count on getting caught. Cause of death: Alucard.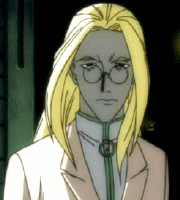 Luke Valentine
The Valentine Brothers provide a pivotal plot turn when Millennium is brought into the picture, but in the TV series they just serve to close off the second half. Luke comes in all swagger and smirk, the suave and sophisticated brother.
He saunters down to the basement to find Alucard, smiles, states that he's about to lay the smackdown, and, after Alucard takes him seriously, swiftly surrenders. Too late; a Hellhound appears from Alucard's shoulder and has him as a snack.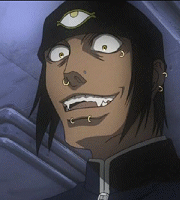 Jan Valentine
Jan is the younger Valentine brother, the rough-around-the-edges one, the one who can't get through a subordinate clause without swearing. He leads an army of ghouls into the Hellsing mansion, takes out the first two floors, then gets tackled by Seras and squeals like a baby when Walter steps on his fingers.
Jan's target is the Round Table council on the third floor; he, like Luke, has too much confidence. Despite his long and graphic descriptions of what he's going to do to Integral when he gets there, she just shoots him in the face. Serves him right for smoking her cigars.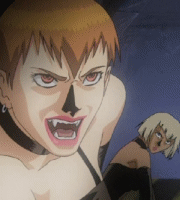 The Vampire Chicks
In addition to the army of ghouls, and subsequent army of former Hellsing soldiers turned into ghouls, the Valentine Brothers employ a couple of young women with sharp teeth and skimpy outfits, right out of a vampire B-movie.
They don't talk; they just dance, chomp, get chomped, and hiss. They don't join the attack, and they're never seen again. Maybe Jan finished them off.
The Second Half (Orders 07-13)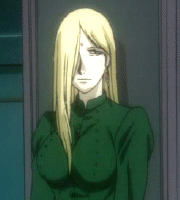 The baobhan sith
She walks in, all demure smiles and sexy curves, and mesmerizes first Walter and then Integral into believing she's "Laura Hellsing", the little sister from Avon who's come for a visit. Seras is suspicious, but Walter keeps her from interfering.
As Integral finally realizes, this is a baobhan sith, a type of Scottish vampire known for dancing in green dresses and seducing unwary men. Except this one doesn't seem interested in the "men" part - and now that Integral isn't mesmerized, she's paralyzed. Thankfully, she manages to call Alucard in, and his influence overrides all the babohan sith's hypnotism; but not before Integral gets bitten. Cause of death for the babohan sith: Alucard.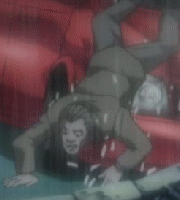 The host
Bayonet fodder, plain and simple.
This vampire represents a generic case, the sort that the Hellsing Organization is presumably dealing with all the time, in the background of the more exciting incidents that the story tells about.
This one runs around a bit on a rainy day, crawls downward like a lizard in a nod to Dracula, flees the Hellsing organization into the subway, and gets stabbed by the returned Anderson.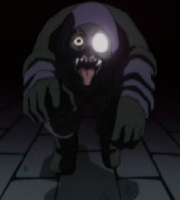 Random FREAKs, Doggy Model
In Order 09, when the Hellsing organization is moving in on vampires in Baobhan Castle, a Regular Army unit shows up and takes over, with the excuse that there are terrorists holed up in there, and that makes them RA targets, undead or not.
This was a really, really dumb move. All the soldiers sent in get turned into generic canine-style FREAKs (but not ghouls, to Hellsing's surprise) for use as Incognito's personal army. Lots of people die as a result.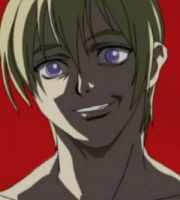 Paul Wilson
One of the soldiers sent into Baobhan Castle in Order 09. The rest of his unit was turned into low-level, not-too-bright canine types, but Paul's a cut above the rest. He joined the army to get strong; now he's stronger.
Paul fills the role of opponent for Seras on the ground while Alucard and Incognito battle in the sky. His name comes from horror writer F. Paul Wilson, author of novel The Keep, which one of his superiors talks about in Order 09 before figuring out that everyone else is dead.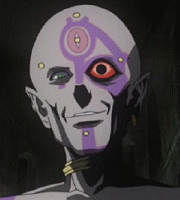 Incognito
When the series was drawing to an end, someone on the character design team said, "All right, we came up with some cool-looking characters, but now we have a whole bunch of extra ideas that we didn't use. What can we do with them?" And someone else said, "Let's throw them all together on one guy, and use him to give the show a climax!" Thus Incognito was drawn.
He was apparently pulled out of Africa; originally walked around in an overcoat but ends up stripped down to the odd jewelry; waves ribbons of purple light around; and has a long fight with Alucard in which it almost looks like he's going to win. He dies, of course - shot with the remains of a cross from a broken gun.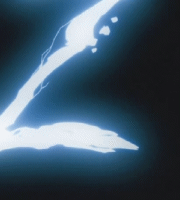 Sett
Sett is a reconstituted demon, summonned by Incognito using Integral's blood. It's never explicitly stated, but it's implied that he's the Egyptian god Set.
Sett appears as a streak of white light and is absorbed into Incognito's body; they then attack Alucard. Incognito dies; what happened to Sett is not quite clear.